It's no surprise that investing in a tractor is a big decision and one of the most important aspects of that decision is finding a tractor that fits your chore list. In the North Georgia agriculture community, the chores list varies from acre to acre. That's why tractors come in different models. It is also why smart farmers and ranchers start that process by choosing a brand of tractor and then continuing their research across the models of tractors within that brand. Find the model that best fits their needs – not only the needs of today but the needs in the future if you plan on growing your business.
Mahindra and Kubota are two brands of tractors that work on the global agriculture scale. Is one better than the other? Maybe, but that decision comes down to what you expect out of the equipment and how you plan to use it. This blog compares Mahindra tractors to Kubota tractors.
The Kubota Tractor
Kubota is not just a world brand. It is a modern tool honed by the input of farmers mixed with an intelligent design that culminates in functionality.
For North Georgia farmers and many farmers across the US, Kubota means Made in the USA as much of the machinery and implements made by Kubota are manufactured in Georgia.
The Motto of Kubota is "For Earth, For Life" and that is a telling tale that resonates with quality, dependability, and intelligent attention to the challenges of modern farming. In 2022, the world population will cross the 8 Billion people mark and Kubota stands ready to help farmers feed the world.
The Positive Force of Kubota Tractors
Kubota is not only a top world brand but a top brand in the US. It goes shoulder to shoulder with New Holland and John Deere, and it holds its own. Some top reasons why farmers love Kubota are:
Kubota holds its value. – "Five years after you purchase a Kubota tractor it still has 60 percent of its value." That means a lot to small farmers and even more to larger agriculture outfits. Value is important and it speaks a lot to how a brand holds up to the rugged terrain and ominous tasks of farming in North Georgia.
Kubota is Made in the USA – Not all the tractors that Kubota makes are made in the USA but the ones you buy here at Nelson Tractor are all USA products manufactured by USA labor, and that means Kubota is employing US workers and especially those here in Georgia. Kubota has three manufacturing plants here in Georgia.
Quality Attachments – Made to Outlast Your Tractor – Kubota really sets the bar when it comes to the manufacturing of tractor attachments. You can expect fully welded decks and seems that keep rust and corrosion at bay. Expect attachments to pair with your tractor and made to handle the torque, pushing, and lifting power of your tractor as you apply the attachment to your chore list.
Smart Advancements to Conquer Modern Farming – Kubota as a brand is committed to the earth and the natural environment. It is also committed to the role of modern agriculture and shows off both the types of intelligent design and adaptation to changes within agriculture in the USA and around the globe. Kubota approaches these challenges in a "meet the day" philosophy that addresses the needs of farmers today and in the future. Kubota is quick to adapt its products by combining new technologies with adaptations in tractors and ag equipment. The result is smart advancements in the capabilities of Kubota equipment to help farmers around the world not only meet the needs of their industries but to grow their businesses.
Where Are New Kubota Tractors Made?
Kubota tractors are manufactured all over the world. However, about 50 percent of the Kubota tractors sold in the US are made right here in Georgia. While Kubota is a Japanese brand, it has a very strong American presence
There are two main hubs where Kubota of America manufactures agricultural equipment. Those are located in Gainesville, GA, and Jefferson, GA.
Thanks to Kubota, Somewhere around 2,500 people who call Georgia home are employed. The facilities produce over 200,000 units per year.
Advantages of Kubota Tractors
Made in the US from US Parts
Local service and repair are available
Lots of options – residential tractors from 16.6-62 HP [1] or go big with the Kubota agriculture series with M7 and M* models that range from 128-200 HP. [2]
Likely, you will find that Kubota is slightly higher in price than Mahindra tractors, but if you compare beyond the price of the tractor and include attachments, service, travel for service, and quality of build you will likely find that Kubota is a better deal even if the tractor costs a little more.
Factory Trained Service – All Kubota technicians are trained at the factor and the training is deep. They also have a faster response for parts and service so that your tractor is ready to work longer.
Disadvantages of Kubota Tractors
There are not a lot of disadvantages to Kubota. They have worked hard to present a brand and equipment that tackles your to-do list, retain value, is powerful enough, and is built to last.
Price – If you are shopping only by the price you might find that Kubota tractors will cost you a little more; however, price is only one part of the value.
The Mahindra Tractor
Mahindra tractors are an Indian brand and have been around since 1963. They are well-known as tractors that can handle rugged and tougher environments and are often on par with Kubota for their quality make and functionality.
The biggest draw to Mahindra in the US is price. You will likely find that Mahindra tractors are slightly lower in price than Kubota but that can also change from dealer to dealer and between tractor models.
Where Are Mahindra Tractors Made?
Most Mahindra tractors are made in China or in India. None are made in the US, though they have several sales and service locations within the US.
Advantages of Mahindra Tractors
One advantage of Mahindra is that it is the company with the largest sales of tractors in the world. Their market is China, Australia, the Middle East, Africa, and the US-North America. Other Advantages:
Well priced for their markets – For a basic tractor you will likely save a bit of cash buying a Mahindra brand tractor – Not always though, so it pays to shop around.
Quality that is close to Kubota though there may not be as many options for tractor models or attachments.
On par with Kubota for comfort and ergonomics.
Disadvantages of Mahindra Tractors
One of the biggest disadvantages of Mahindra tractors is the long wait time for parts. If your tractor breaks down it can take a month or more to receive replacement parts. – There are rumors that Mahindra is making improvements to this issue.
Their service centers are also spread out, so you have to travel longer to find service (in most cases.)
The smoothness of operation can be less in Mahindra over Kubota. That means doing the same job, it is likely the Mahindra tractor will wear you out before the Kubota will.
What are common problems with Mahindra Tractors?
Two common problems with Mahindra tractors are engine issues and electrical issues. Both can stop the tractor from working and can take some time for repairs. If you consider that every tractor is going to need a repair or service call, you can see why this might be an issue. If you live remotely you are going to have to take the unit to a shop or wait for farm-repair service by a dealer.
Fuel System issues can lead to loss of power – This is also a common issue with Mahindra Tractors. [3]
Do Mahindra tractors lack DPF (Diesel particulate filter)?
Some models do and some models do not. The Mahindra tier IV engines do not and Mahindra feels that is an improvement. The mCRD engines contain new technology that makes a DPF obsolete. These engines still meet the strict emission requirements but forgo the higher temperatures and burn-off.
What are the advantages or disadvantages of this?
There are no disadvantages as the new engine design is simpler. The lack of the DPF filter does not decrease the ability of the tractor to function at peak capacity.
The advantage is the engine is simpler both in design and operating.
Advantages/Disadvantages Conclusion
Mahindra has a habit of buying cheaper tractors from other sources and selling them as part of the Mahindra Brand. One example of that is the TYM tractors produced by South Korea, which Mahindra purchased for resale.
When buying a tractor it is important to look past the shiny name of the brand and look more closely at the equipment, total cost, comfort and ergonomics, and functionality. There is no need to pay more or less for something you will not use. It is also important to know that Kubota can be cheaper than Mahindra. Price is only one aspect of both of these brands.
Both Mahindra and Kubota are quality brands but if your pain points are local service, better access to parts, and made in the USA you will likely lean towards the Kubota brand. If you are shopping only based on the price you might find that Kubota is still the better deal or you might find a Mahindra model tractor that is cheaper.
Mahindra vs. Kubota – Tractor Buying Considerations
If you are in the market for a tractor – new or used – chances are you are doing a lot of research to find the best tractor brand to fit your farm and your chore list. We've written about Kubota vs. Mahindra brands and there is a reason we sell Kubota tractors and farm equipment. That is not to say that Mahindra is a terrible tractor – it isn't. It is to say that we like the Kubota brand a little better. Inside we will explain our preference for you.
Warranties – They are Important!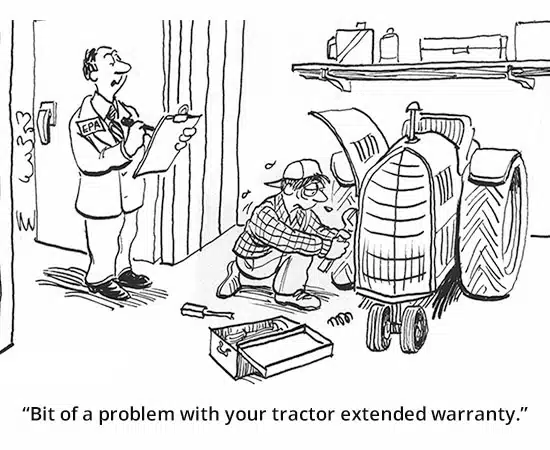 One of the things that put us off Mahindra is their warranty. You cannot just buy a residential tractor and use it to move small loads of gravel at your commercial gravel pit. If you do, the warranty is void. [1] – You can read that for yourself on page five of the Mahindra tractor warranty page.
The Kubota Tractor warranty separates residential and commercial units giving them different timeframes based on usage. You can read the Kubota warranty guide for yourself.
If you are shopping for a tractor and have questions, we recommend that you take advantage of the tractor experts at Nelson Tractor. We are happy to share our deeper knowledge of all tractor brands with you as you puzzle out which tractor is best for your usage. To be quite honest, every farm is different and how you utilize ag equipment is important to both the warranty and the quality of the job the tool does for you.
Kubota vs. Mahindra: Tractor Models
Agriculture Grade Tractors – these are the big toys made for working on larger agriculture projects.
Mahindra has four options – the 6000, 7000, 8000, and 9,000 models.
6000 – Model
HP – 62-71
Weight – 6095 – 7495 LBS
3-point hitch lifting capacity – 4840
7000 – Model
HP – 85-95
Weight – 7450 – 8380
3-point hitch lifting capacity – 5730 pounds
8000 – Model
HP – 91.5 – 100
Weight – 8587
3-point hitch lifting capacity – 5500
9000 – Model
HP – 110-120
Weight – 9535 pounds
3-point hitch lifting capacity – 7480-9460 pounds
Kubota offers The M7 and M8
M7 – Model
HP 128 -168
Weight – 13889 pounds
3-point hitch lifting capacity – 9400 pounds at lift end or 5360 24″ behind the OECD.
M8 – Model
HP – 180 -200
Weight 19,500 pounds
3-point hitch lifting capacity – 11200
Kubota's M-series tractor is big – much larger than the Mahindra 9000, and Kubota offers several more models in their "specialty" category that offer different applications and horsepower options.
Kubota Specialty Tractors:
M-Series Low Profile – 100 HP
M-Series Narrow – 72.6-108.2 HP
M6H – High Clearance – 104.4 HP
Utility Tractors
MX – 55.5-63.4 HP
M60 – 63.5- 71.0 HP
M4 – 65.4-73.2 HP
If you are shopping on HP alone, Kubota has way more options and the variety of models means that you can look for features that fit your needs such as high clearance, narrow width, and low profile options for cleaning out chicken runs or moving products in low-ceiling buildings.
Mahindra also has a range of tractors from the 5500 model with 43-55 HP and lighter weight at 5567-6039 pounds or the smaller Compact tractors too.
Mahindra Compact Tractors
Max – 24.25.9 HP weighing 1715-1973 pounds it is designed for smaller tasks and light loads.
Kubota Compact Tractors come in the B, LX, and L series and have a horsepower range from 20.9-62.0. These are smaller units with the capacity to do larger jobs. These are perfect for residential usage and hobby farms where your range of power and lifting will vary the greatest.
Tractor Buying Pain Point
There are some basic considerations that you want to think about before you plunk down a bunch of cash or credit to purchase a tractor. Those include:
Service Options – Tractors are tools, and they do break down. When they do, you have two options – schedule a farm service call ( the repair team comes to you) or load up the beast and take it to the dealer or service center. At Nelson Tractors we have an award-winning service center that is backed up by a huge parts warehouse. The ability to have your tractor serviced or repaired locally is a huge consideration. If that option is not available you end up towing your tractor an hour or two hours away and that is half a day lost. Plus there is the parts issue, with such a large selection of parts in stock for our Kubota and New Holland tractors you don't wait long. Mahindra has had a problem supplying parts with lag times being a month. Can you afford to have your tractor sitting idle for a month?
Comfort – Working the land can be a full-time job. You can avoid back fatigue and pain by paying attention to the comfort features and ergonomics of the tractors you are considering purchasing. Tractors are a big investment, and they should be comfortable. Come down to Nelson Tractors and sit in the Kubota you are eyeing. Check out the comfortable designs, all-season cabs, wide foot areas, and ergonomic seats. Mahindra is also well-known for comfort.
Fit and Size – You want to make sure that the model you buy can fit where it needs to go or that it has the ability to adapt. We're talking about the overall width to get into smaller barn doors, garages, etc. Besides the width, are height and bottom clearance. Also, some crops need a narrow tractor. Take a hard look at your chore list and take measurements. It has happened that someone got home with a brand-new tractor that didn't fit where it needed to go.
Safety – the first part of every job should be safety. Consider your terrain and how well a tractor will fit the terrain you have. That includes working snow or ice, rain, sleet, and under hot conditions. Some tractors come with roll bars and modern cabs offer a lot of safety features such as cameras, etc.
Horsepower and Ability – From a 4×4 drivetrain to a powerhouse engine, picking the right tractor is critical. Kubota offers a huge range of standard equipment across many models of tractors.
Value and Retained Value – It is difficult to beat Kubota when it comes to resale value on tractors. Five years down the line your Kubota tractor will still hold around 60 percent of its original value.
You can add the major advantages and disadvantages for both again if it looks good- I'll leave that up to you. The goal of this section is to do a final comparison and conclusion. Start writing something and determine what feels best for the article.