We know the challenges of farming in North Georgia. Whether you are raising poultry, growing hay, setting up or maintaining horse arenas, or expanding your hobby farm into something that pays for itself, we can get you in the right tractor.
We also recognize that compact tractors are still a significant investment, and we want that investment to be a perfect tool for your farm, your budget, and your peace of mind.
The First Time Tractor Customer
Many local farmers come into the dealership with a list of questions. They have sat down, done the math, and have a pretty good idea of what they need from a tractor, but they still have questions. That is how buying a new tractor should be. So, bring in that list of questions and sit down with us and have a conversation.
We Offer Honest Transactions that Build Life-long Relationships. 
What we offer new customers is honesty. We have been doing this for a long while. We know the ins and outs of farming here in North Georgia. We recognize that building long-lasting, positive relationships are where and why we do the most business. Overselling customers equipment they don't need is not what we do.
We know that the impact of buying an attachment or tractor that does not match your needs. It is the fastest way to lose business. We know that firsthand because we do a lot of business with people who purchased the wrong tool from other tractor dealers. That's why we love your list of questions. The better we understand your needs, the better the conversation becomes.
Nelson Tractor Company focuses on being honest because we believe your first impression of us is essential. It's why many of our customers return here each time they need a tool for their farm.
Expect an Interactive Sales Team
One of the first questions we will ask every new tractor prospect is, "What do you want it to do." Don't be surprised when they show you a tractor that is less expensive and full of capabilities. Because we know the North Georgia farming scene, we may show you options you never knew existed. Tools that fit your chore list better and are in the same price range.
We have two goals. The first is that you leave 100 percent happy with your purchase. The second is that you leave 100% happy with the answers to your questions. You may not make a purchase today, or you may not buy from us at all. We want the experience you have at The Nelson Tractor Company dealership to be excellent. We focus on making good impressions and then living up to them.
Expect the sales team to listen to what you say. Not just hear you but take it on board and formulate honest answers. For example, we always start the conversation with, "What are you looking to do with a tractor." We want to see your farming challenges from your perspective. When we understand your needs, we can talk about your budget, the options available.
A lot of folks come in and start with their budget. "I need a tractor for $25,000." We will still ask you what are you going to do with it? What is your land like — hills and rocks? Are you expecting to expand your business? When all that is ironed out, we go back to your budget. The truth is there is a lot of potential solutions that are way under most budgets. Price is not a solution to your farming needs.
How To Buy Your First Tractor 
One of the first steps is to look for a dealer that wants your long-term business. We appreciate our customers. Whether you are ready to buy a Kubota tractor or you want to buy tractor implements this blog will walk you through that process.
Can You Look Past Brand Names? 
We stand behind every brand we sell. But, of course, there are some cheaply made tractors out there too. Big brand names are essential for a few reasons. One is that parts and service are more readily available. In some cases, they are less expensive than the cheaper brands.
How Well Does the Tractor Fit Your Needs?
It is not uncommon for someone to want a tractor for a specific chore. Tractors are very versatile and buying one to do a single chore is a waste of money. For example, if you have to move a lot of manure to make room for a new barn, rent a tractor or hire someone to move that pile for you. Have a good look at all the attachments you can use to customize how a tractor fits your farm.
At Nelson Tractor Company, we ask a lot of questions. How big is your farm, what do you do there, how is the topography? What is your chore list for this month and next year?
We want you to buy something you will use more than just once.
How Far Will You Drive for Tractor Service? 
We offer a full tractor and equipment service department and parts counter. When you buy from us, having your tractor services is a short trip. We've been here for a long time because we offer quality service and excellent products. Some of our staff have been working here for 50 years.
How Much Horsepower Do You Need?
Horsepower dictates what you can do and cannot do with a tractor. Therefore, a compact tractor with buckets of HP is a good option when you have various tasks to finish quickly.
Learn more about the three types of horsepower involved with tractors?
Tractor Safety is A Big Deal 
One of the reasons we want to know what you need to get done with the tractor is safety. We want to make sure you understand how to keep all the wheels on the ground and prevent rollover situations. That process starts with how you use the tractor and the safety features that the tractor has.
There are different types of tires, and they match up with different types of operating environments. So which type is best for your farm?
Options for Tractors 
The list of options for tractors is long. There are different transmissions, attachments, and more: each impacts horsepower, lifting power, and ability—another reason we start with your chore list.
Do you need earth augers, rotary cutters, scrape blades, fertilizer spreaders, or a front-end loader? The list of implements and attachments is long.
The Warranty 
The warranty is a big deal, and they differ between brands and sometimes even models. Are parts and service included? What is excluded? How many hours is the warranty good for, and is there an option to extend it?
Comfort is Essential
If you are going to spend eight hours on a tractor, it needs to be comfortable. Working in uncomfortable conditions wears you out quickly and can cause injuries.
What Packages Are Available
It is not just a tractor you are buying; it is a tractor that fits your farm and chore list.
The Next Step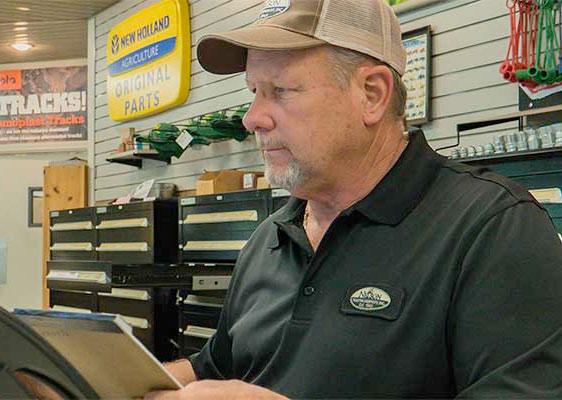 We start with your list of questions, and we will ask questions too. Do you need a new tractor or a used tractor? When we get everything ironed out for you, we talk pricing and financing.
We are a no-pressure sales team, and we expect people to take their time. As a result, our process is user-friendly, detailed, and full of honest information.
If you are ready to start shopping for a tractor or have a list of questions about buying a tractor, come on down. We are happy to answer your questions, show you the machines, and let you make an informed decision about which tractor is best for you.