We are proud to be the Kubota and New Holland dealer for Cherokee County North Carolina. We have been serving customers in the Murphy area with the best selection of tractors, farm equipment, and construction equipment since we first opened our doors back in 1949.
We invite you to come by our closest location in Blairsville, Georgia to see our selection of tractors, farm and construction equipment.  We carry a great selection of top brands like Kubota, New Holland, and many others under the same roof at our Blairsville dealership.
Our Location
2934 W. Hwy 515
Blairsville, GA 30512
Our Hours
Mon-Fri: 8 a.m. to 5 p.m.
Sat: 8 a.m. to 12 p.m.
Closed on Sunday
Contact Us
Phone: 706-745-2148
Fax: 706-745-7225
Our Farming Equipment Brands
Kubota
Kubota is one of the world's biggest brands and remains a favorite choice among our farming and construction customers. The company has a long history of building workhorses that hold their value and are built to last.  Models like the Kubota B2650 HSD are selling for over 60% of their original price after 5 years.  This commitment to durability and value over cost is what sets Kubota apart.
Kubota is well-known for their mowers or "lawn tractors" including zero turn mowers. Our homeowner customers love the strength and durability that come from their fully-welded decks. Kubota builds value into their products so they last a long time.
New Holland
Did you know that New Holland has a wide variety of solutions for both the agriculture and construction industries? For landowners of various acreages, New Holland compact tractors cover the full spectrum.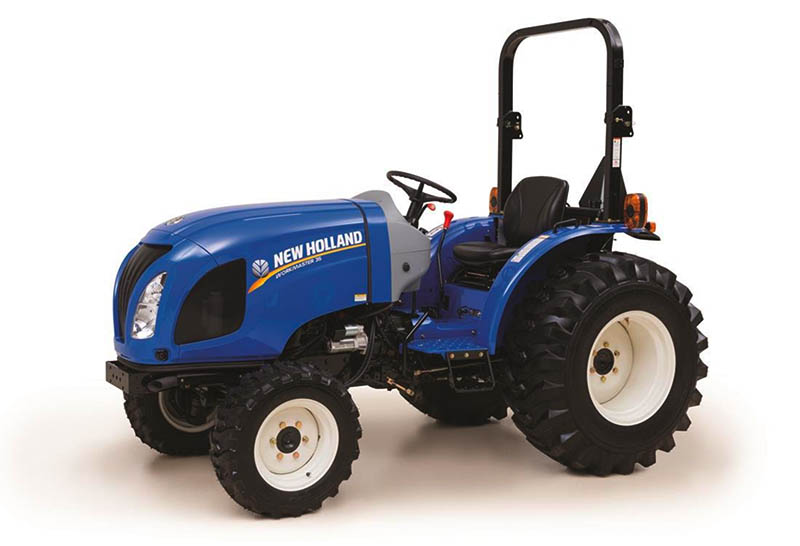 Up To 10 Acres
On smaller properties, tractors are primarily used for maintenance and upkeep. Tasks like mowing, gardening, landscaping and removing snow can all be accomplished with a compact tractor with 20-25 horsepower. Some people like going all the way to 50 hp.
Our recommendation: The New Holland Workmaster 25 or Boomer Compact 24 are perfect for anyone who has small food plots, land for livestock, and homeowners with up to 10 acres of grass and garden to upkeep.
10 – 50 Acres And Up
Properties that are 10-50 acres in size require more horsepower. A tractor with 30-100 HP can do everything the smaller one can, plus hay harvesting in many cases. These are typically used for profit farming.
Our recommendations: On the lower end, the New Holland Workmaster 35 or Boomer 33 have the horsepower to tackle a variety of jobs around a larger farm or property, and are fuel efficient, making the most out of your work day. The closer you get to 50 acres, the more likely you'll need the higher horsepower of a New Holland PowerStar. On the hay side, you need a PowerStar with 75 HP or higher.
50 Acres And Up
A 50 acre farm means you need a 100 horsepower utility tractor. 
Our recommendation: The New Holland PowerStar 100 or 120. Both have all the HP you need to take care of large properties.
Learn more about choosing the right New Holland compact tractor.
Besides Kubota and New Holland, we offer these and other top brands:
Fecon

Dirt Dog

Kuhn

Ansung

 
Types of Farming Equipment & Attachments
We offer:
Tractors (compact, utility, row crop)
Tractor Attachments
Mowers
Rakes
Wrappers
Spreaders
Explore our wide selection of farm equipment and tractor attachments at our Blairsville dealership. Meet our team of Georgia agriculture and construction experts in Blairsville and explore. We'd be honored to meet you, answer your questions and help you find the right equipment for your job.
Farming In Cherokee County
Why do farmers want to live in the Murphy, NC area? There is something special about Murphy, North Carolina, home to thousands of families and over 200 farms, many which are run by new or beginner farmers. With the intersecting rivers of the Hiawassee and Valley rivers, Murphy is a beautiful town. A substantial chunk of the county's farm revenue comes from cattle and aquaculture.
Top Crops: Hay, Corn, and Vegetables
Top Livestock: Cattle, Goats, Sheep and Lambs, Horses, Hogs, and Turkeys
*Source: 2017 Census of Agriculture
Need Construction Equipment?
We are proud to serve the Murphy construction industry and workers.  We do not take lightly the trust they put in our products and service each and every day.  Home construction, grading, and excavating are the leading operations here.  Home construction may be repairing a gravel driveway or building a home from the ground up.  Excavation and grading operations in Murphy include roadway excavation, rock removal, and burrow excavation.
Construction equipment we offer include:
Excavator

Compact Wheel Loader
Reach out to us at 706-745-2148, or visit our nearest dealership in Blairsville, Georgia.
Why Nelson Tractor?