Tractors For Sale & Equipment
When you need a tractor, Nelson has you covered. We're a family owned business, and our goal is to treat you like family, too. We won't steer you wrong. We're proud of the service we deliver and the products we carry.
If you're not sure what you need, come on in and talk to us. We'll discuss the size and scope of your project, whether you'll need a tractor in the future, and what best fits your budget. Then we'll find the tractors for sale that has the power you need to operate safely and efficiently.
Buying from us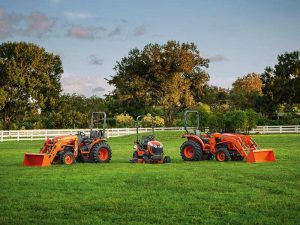 We aren't looking for one-time customers, so we simply won't sell you the wrong tractor. Our tractors for sale are top-of-the-line brands with names you know and trust, like Kubota and New Holland. 
We have all kinds of customers, from people who like a nice lawn to big agriculture. No matter how big or small your project, we have the tractor to meet your needs.