This is the question we get asked most frequently, and it's also one of the hardest to answer because oil capacity depends on the specific make, model, and year of your equipment. Rather than try to list thousands of models, here's how you can find the information on our most popular brands if you've lost your operator's manual.
One of the best resources for tractor information online is Tractordata.com. You can search hundreds of brands and thousands of models from new equipment to the real dinosaurs of the farm industry.
Before I show you how to get around the site, let me show you how to Google like a boss. You can get what you're looking for in a second by going to Google.com and entering this into the search bar:
site:tractordata.com John Deere D105 – engine
Naturally, you want to substitute your brand and model number for the one I used. Change that, and leave everything else the same.
Here's the result – Google will sometimes give you a box with the exact info you need right on the search page: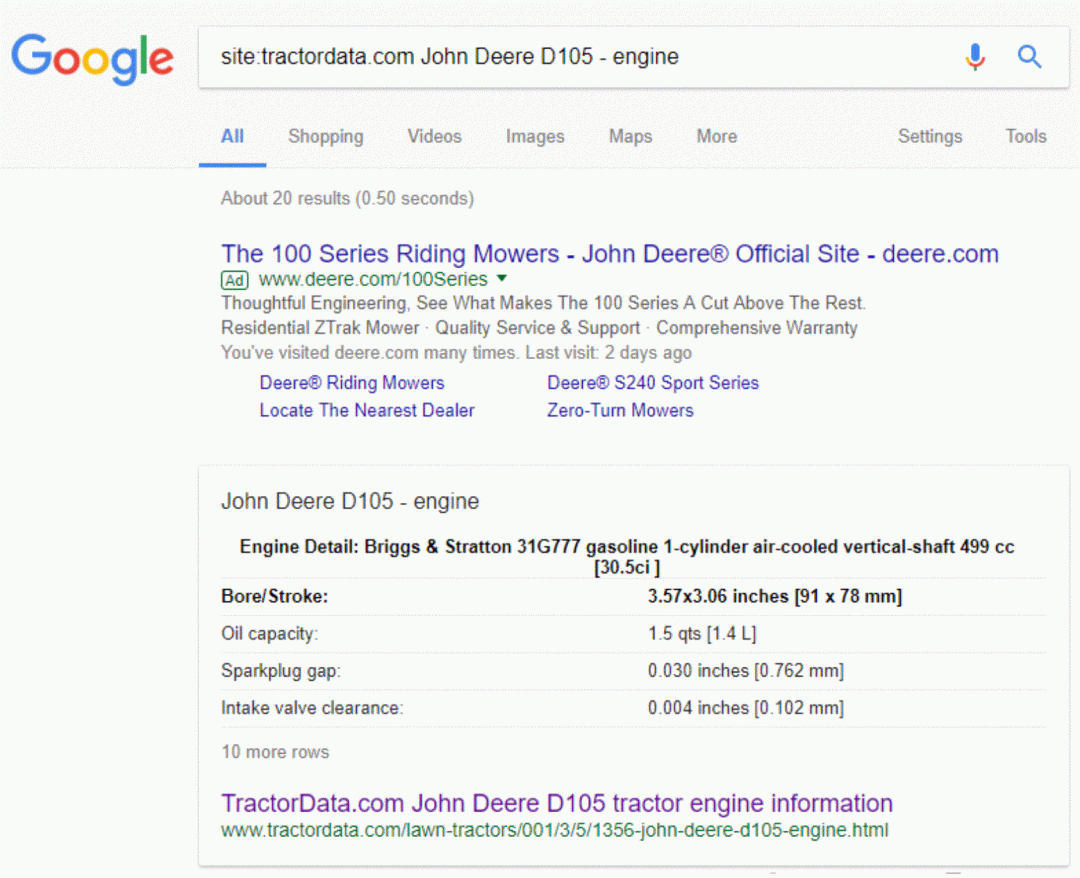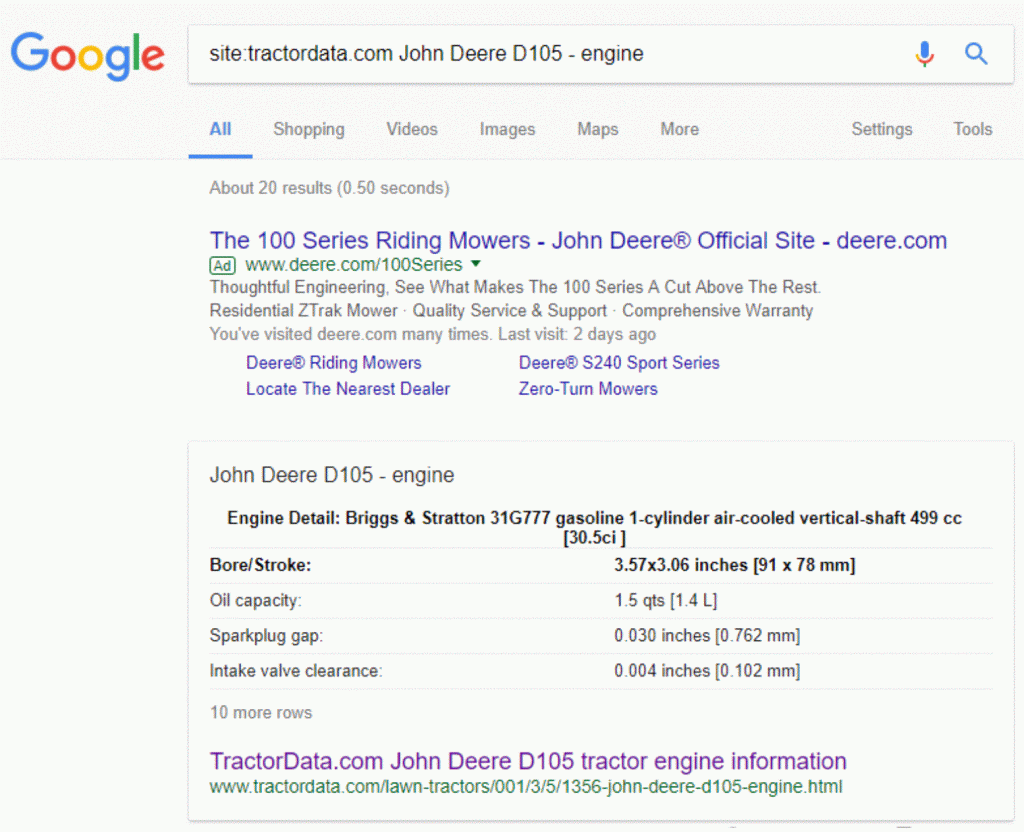 Pretty darn cool, right?
You don't always get the callout box. Here's what it looks like when you search for a Kubota M6040.
site:tractordata.com  Kubota M6040 – engine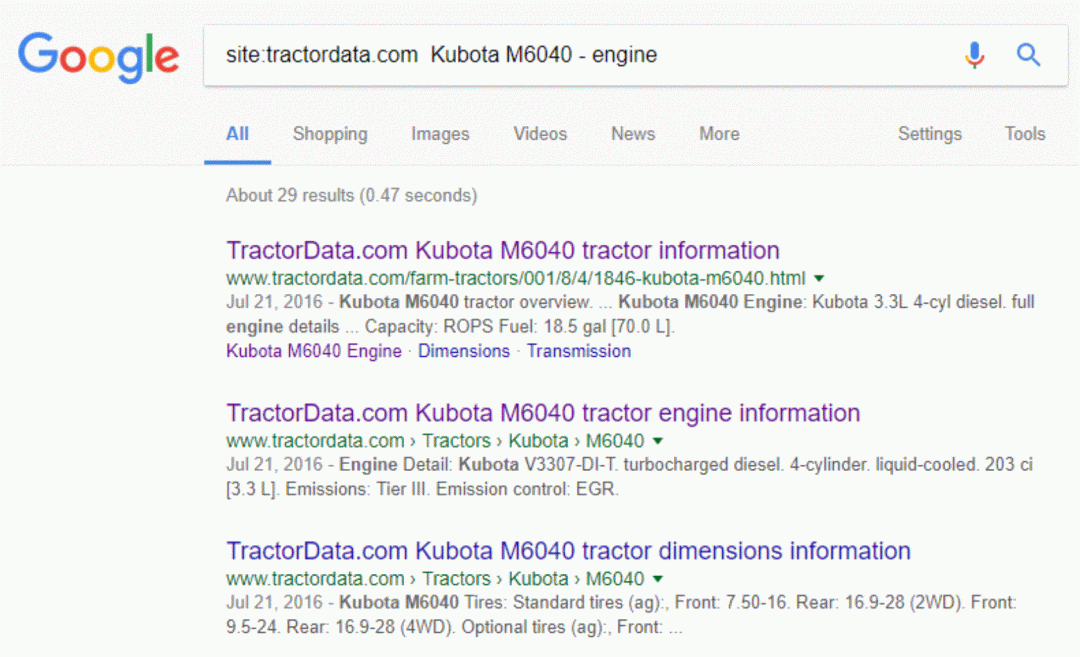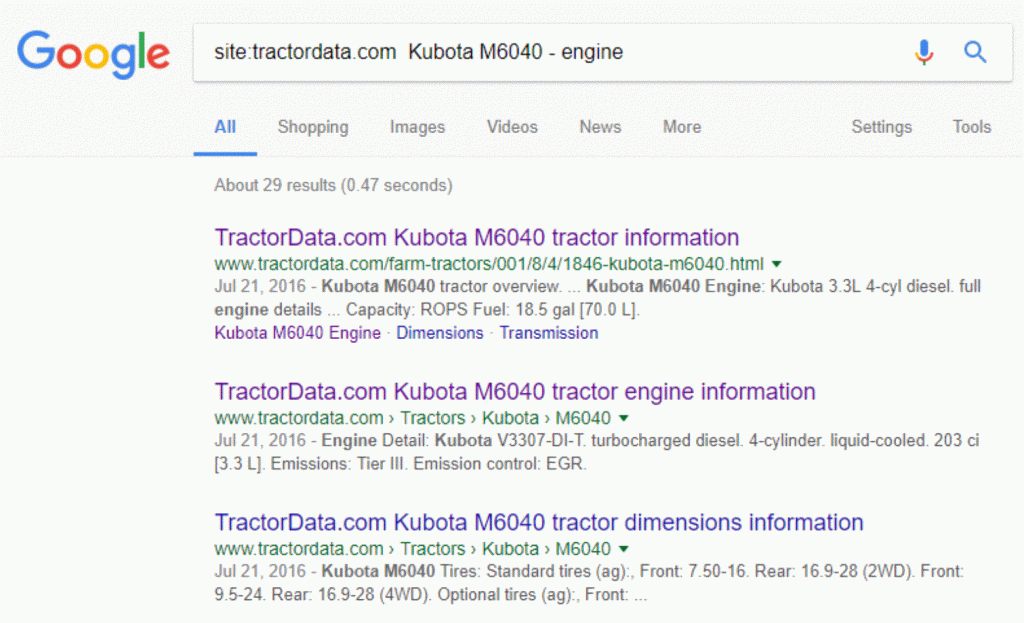 In this case, you'd click the second link and land on this page, which looks like this:

You can also search TractorData.com directly.
The home page looks like this:


There are several ways to search. As you can see, I clicked on John Deere to get started. That will take you to this John Deere tractor page where you'll see a long list of clickable model numbers: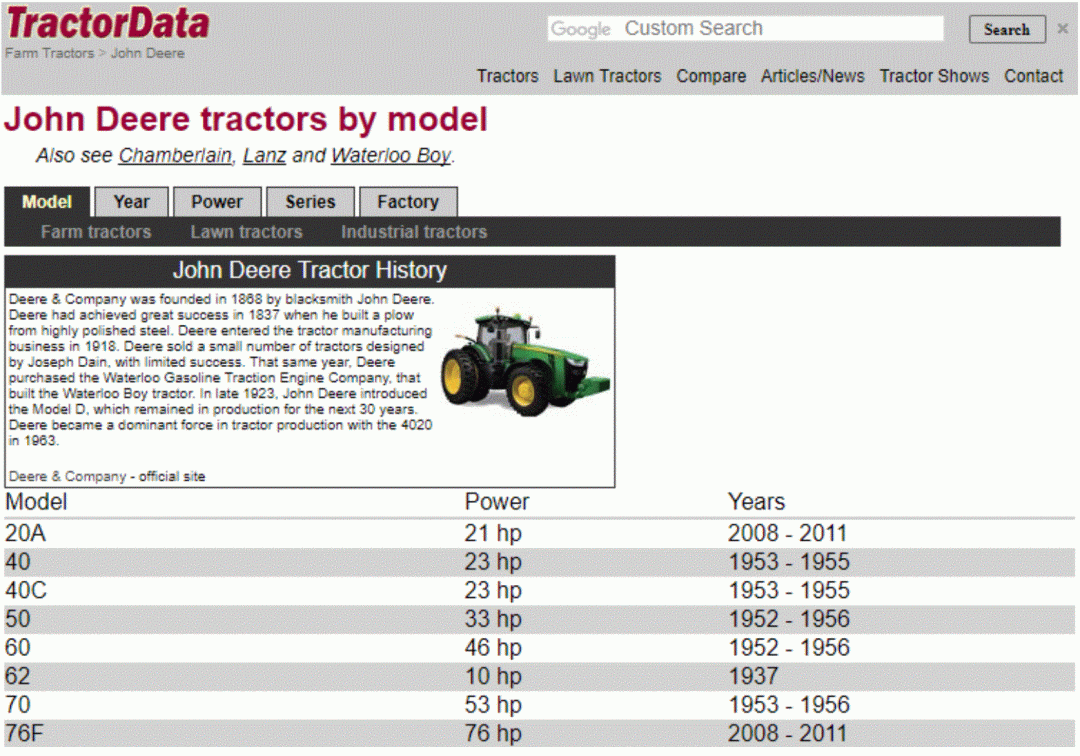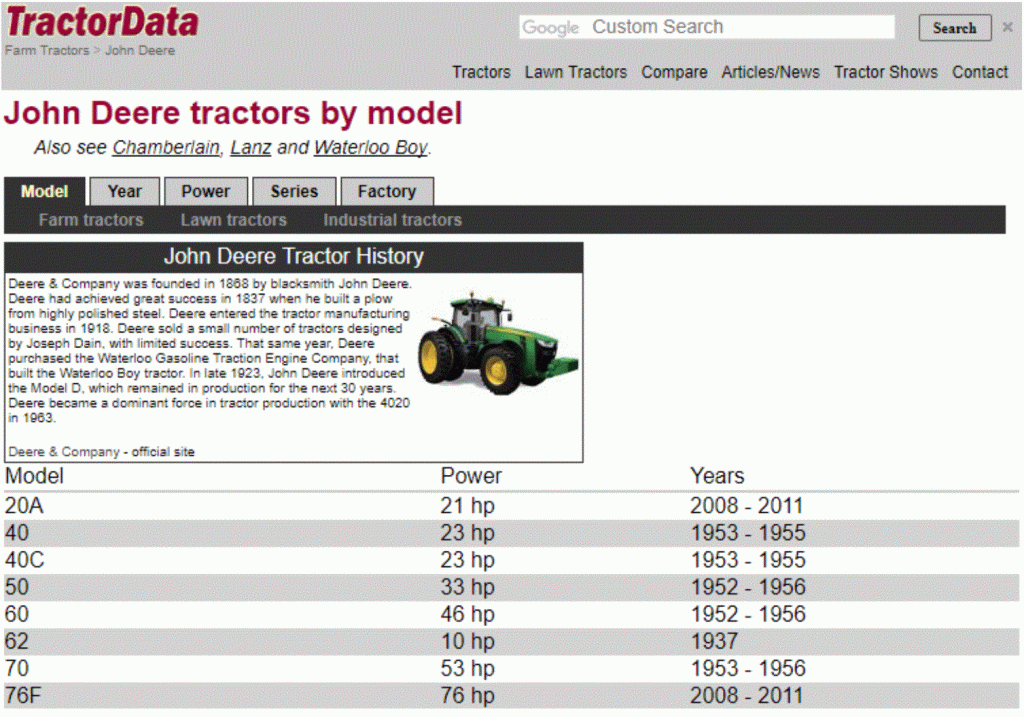 Scroll down until you find your model, and then click on the model number to go to the product page. You can also use the tabs to search by Year, Power, Series, or Factory. Just under the tabs, you can switch to lawn or industrial tractors, if that's what you're looking for.
Remember that lawn tractor I Googled way back at the top? I clicked on Lawn Tractors and found it on the list. Here's the overview page: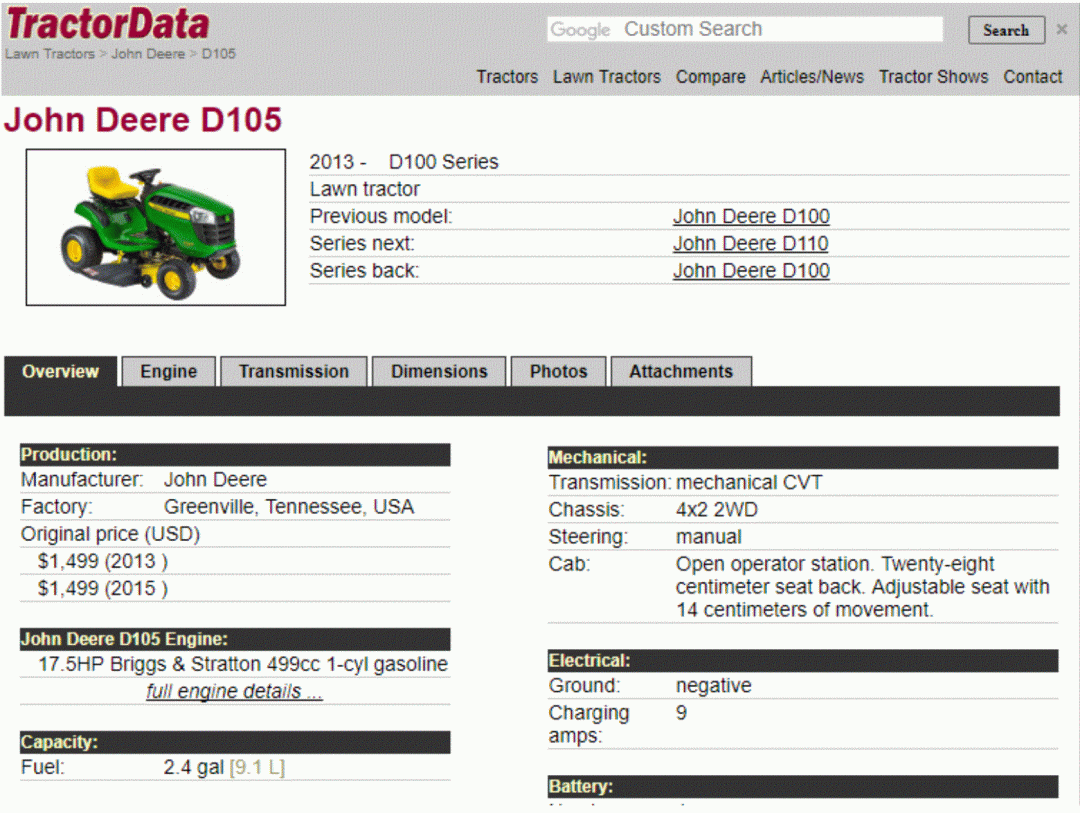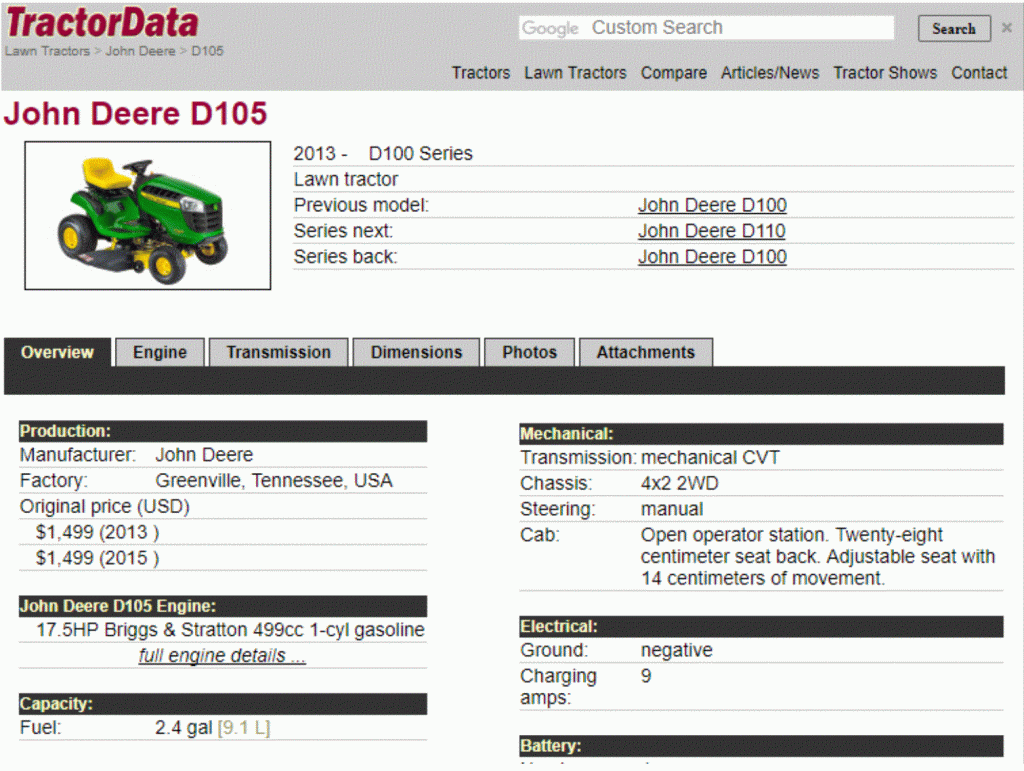 Almost there! See the tabs under the header that say: Overview, Engine, Transmission, Dimensions, Photos, Attachments? You want to click on Engine to get here: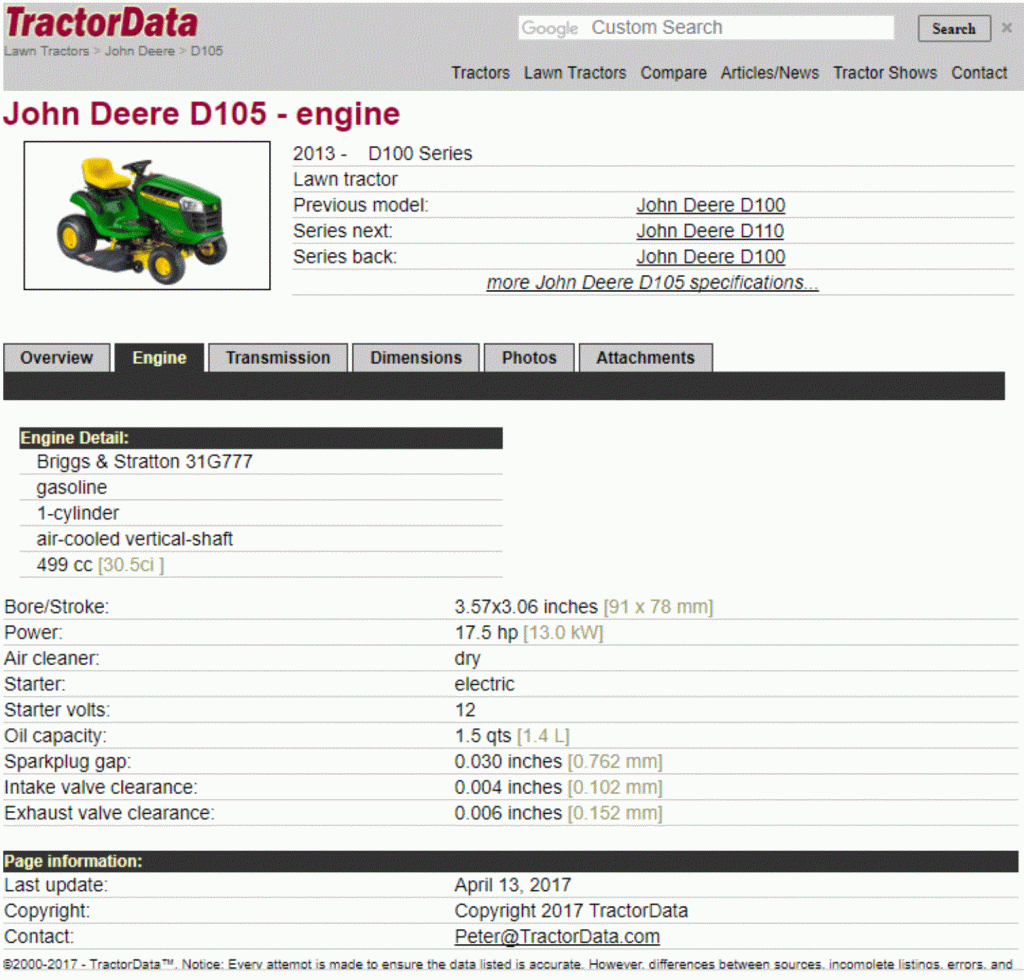 Information is also available from the manufacturers:
John Deere Tractors
John Deere Quick Reference Guides page gives you capacity and a maintenance schedule. The guide will tell you when to change the oil (after how many hours of use), how much to use, everything you'll need, and what the part numbers are. It's free, and you can right-click and save it to your computer for future reference.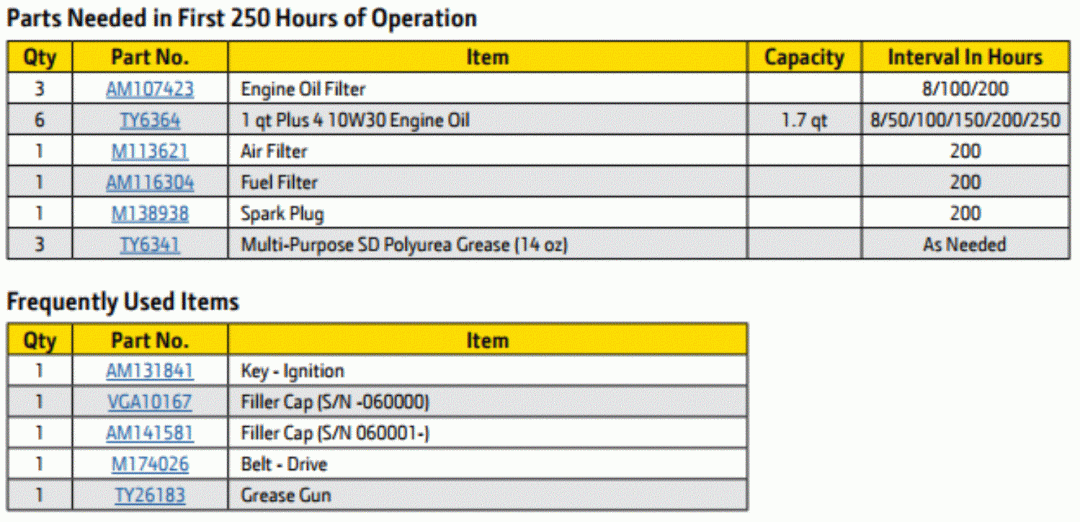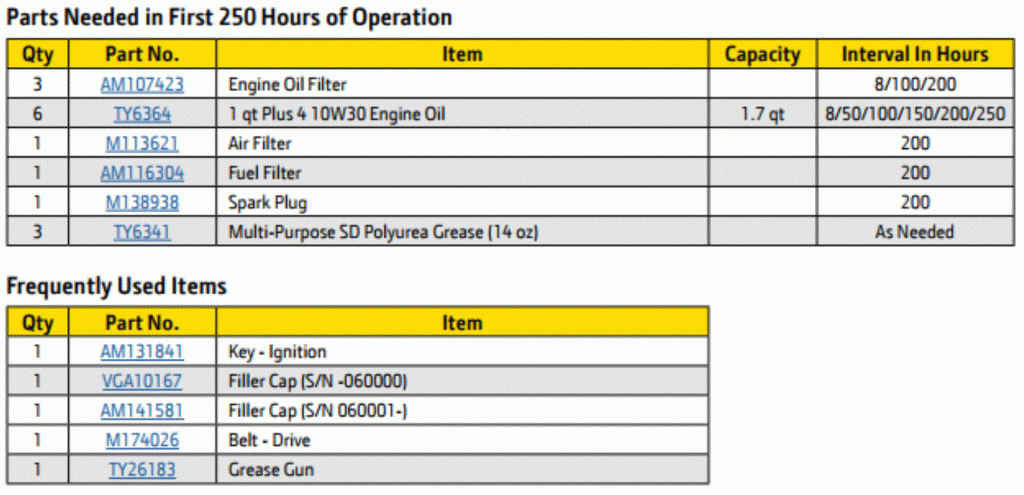 Screenshot from the John Deere Gator TH 6×4 maintenance reminder guide
You can also check the John Deere Filter Maintenance Information page. You'll find a list of tractors by series. Just click on the one you need for a schematic of filters and capacity for all fluids. It's free, and you can right-click and save it to your computer for future reference.
If you'd like a complete manual, check the John Deere Technical Information Store – Manuals generally run $30 – $40, and you can order a book or download a digital copy.
John Deere manufactures its own parts, including oil and filters, specifically designed for their brand. For John Deere lawn tractors, you can buy home maintenance kits that come complete with filters and oil.
John Deere maintenance videos are available online free for step by step instructions, and the John Deere YouTube channel is here, and you'll find great videos like this:
Kubota Tractors
Kubota's manuals are available for free download at Kubotabooks.com. You'll just need to find the model number on the list. If you don't find your tractor on the list, you can purchase a manual here.
Find out when to change the oil on the Kubota lubricant maintenance page.
You can also check out the Kubota YouTube channel, and explore user videos like this one:
New Holland Tractors
Buy New Holland manuals here. For more help, New Holland has a YouTube channel featuring lots of how-to and informational videos. You'll also find helpful user videos, like this one: