Georgia might be famous for its peaches, but that's only part of our agricultural business. We're the top U.S. producer of chickens, eggs, and blueberries, and pretty well known for cotton, pecans, Vidalia onions, and a long list of other products.
Georgia is often thought of as the Detroit of the South for farming equipment!  There are several major brands that either call Georgia their home or have branches or production facilities in the peach state.  Some of the more notable companies are Kubota, New Holland, Agco, John Deere, and Yanmar. 
Other industries are growing by leaps and bounds, but farming will always be Georgia's heart and soul.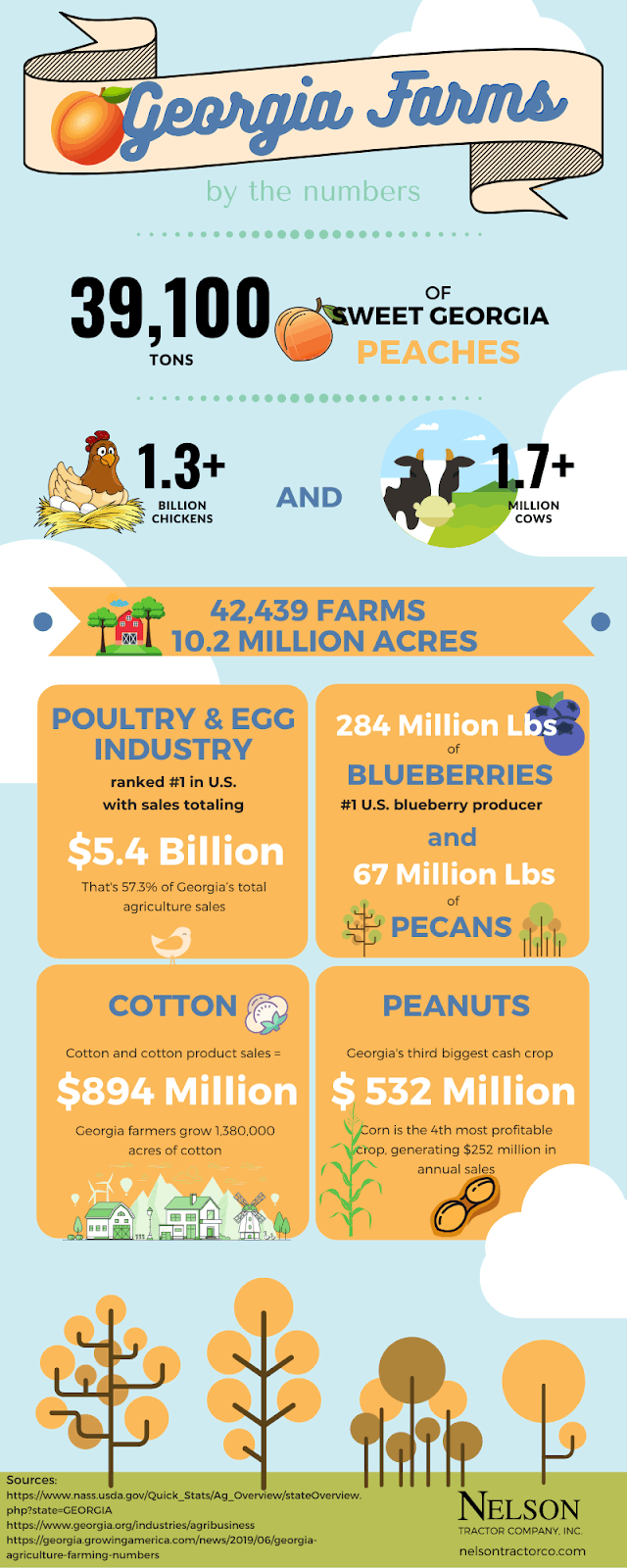 The State of Georgia Agriculture
The US Census of Agriculture is updated every five years. The most current version is 2017, and the report was released in 2019. Compared to the previous report, Georgia gained 182 new farms in 2017, and acreage used for farming increased from 9.6 million acres in 2012 to 9.95 million acres in 2017. 
The 2019 State Agriculture overview shows a continued uptick in the numbers, growing to 42,439 farms covering 10.2 million acres. 
Georgia farms produce a wide variety of meat, dairy, vegetables, fruits, and nuts. Top sales:
Chickens & Eggs – Georgia chicken & egg farmers ranked #1 in the U.S. with $5.4 billion in sales, 57.3% of Georgia's total agriculture sales. That's more than 1.3 billion broilers!
Cotton/Cottonseed – Cotton sales come in second place with $894 million.               
Peanuts – Georgia farms produce a whole lot of peanuts, too: $532,224,000 million
Cattle – we're raising 1.7 million cows, for sale, beef, and milk. The Ag overview only lists  milk in terms of sales dollars: $354 million
Blueberries – we're number 1 in U.S. blueberry sales with $266 million.
Corn – with $252 million in sales, corn is #6 on the Georgia agriculture sales list.
Pecans – comes in at $137 million in sales.
Hay & haylage – generates $129 million in sales dollars.
Watermelons –  bring in another $101 million
Sweet corn, including grain & silage – is worth $75 million
Peppers – Georgia farms grow a lot of bell peppers; $54 million worth
Peaches – sweet Georgia peaches come in at just under $38 million