Whether you're a hobby farmer or operating a small commercial farm, you're going to need some equipment to make your life easier. Your needs will vary according to what you grow or raise, so I'm going to include a general list with suggestions for different purposes.
Compact Tractor
When you buy your first farm, there are all kinds of things you'll run into that you never had to think about before. Something always needs to be moved from one part of the property to the other: fencing, feed, seed, fill dirt, dead limbs…the list is endless. The first thing on my list of small scale farm equipment is a compact tractor.
While good arguments can be made about getting an ATV or UTV instead, a tractor can do all the same things a utility vehicle can do plus a lot more. For efficiency's sake, let's start with a compact tractor and talk about common tasks and attachments.
Tractor Attachments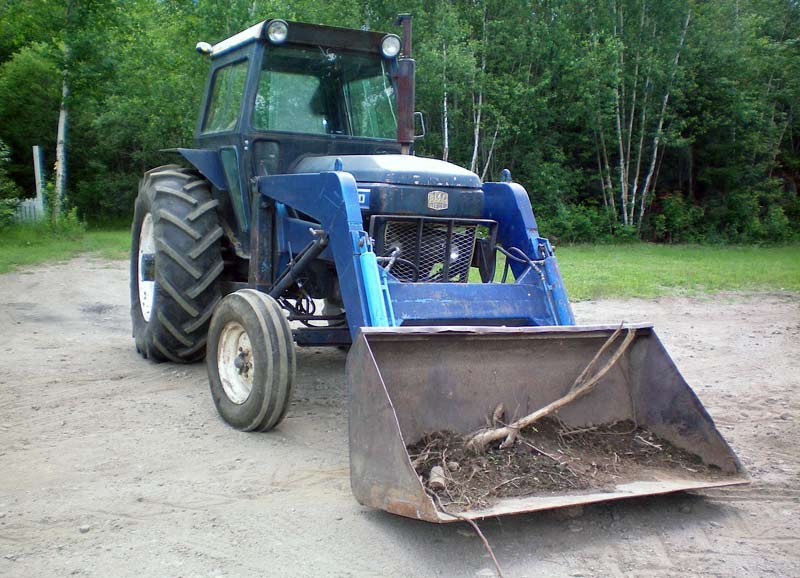 Cart to haul everything.
Spreaders for manure, fertilizer, seed, and mulch. You'll be spreading a lot of materials on the fields and your yard, and doing it evenly by hand is quite a challenge.
Mowing deck (and brush hog if your property is rough) You're going to need to clear land, mow lawn, and power through underbrush.
Tiller to prepare your garden spot and mix organic material into the soil for better water retention. Some may prefer a disc harrow which performs the same task but is ground driven instead of being powered by the tractor PTO.
Front end loader for moving piles of loose material, like straw, mulch, or fill dirt. Many tractor models come equipped with these.
Backhoe for digging holes, digging up stumps, moving big rocks, and transplanting trees.
With these common attachments, you can accomplish almost every heavy task on a small scale  farm. When you buy an accessory, look for one made by the brand specifically for the tractor model. If you have a John Deere tractor, a John Deere cart is going to line up and latch properly, and it will be size and weight appropriate to spec. It's the same with most major brands. Kubota and New Holland have their own line of accessories. While cheaper third-party attachments are often available, they are usually cheaper for good reason. Buying poor quality attachments that aren't a good fit can wind up costing you far more money in the long run.
Fencing Equipment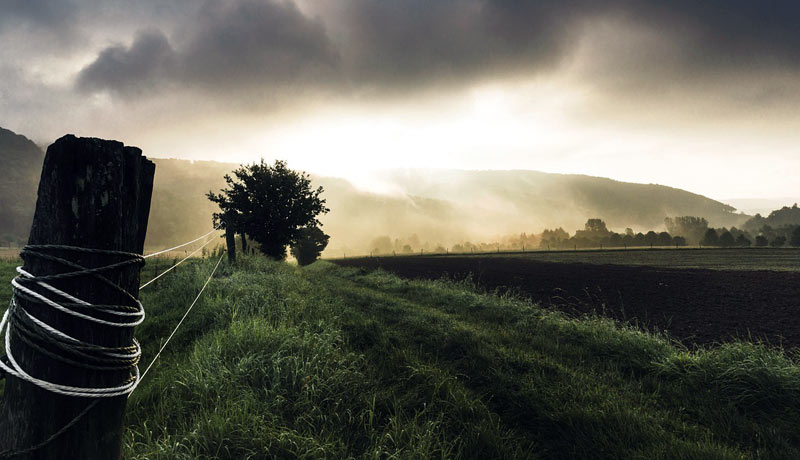 If there's a farm, there's a fence. Usually a lot of fence… that requires constant repair. Fencing tools include:
Post hole digger – Get a heavy-duty commercial grade clamshell-style tool, not a flimsy model made for homeowners. It will be well worth the additional cost in both performance and durability.
Or auger – you may be able to get an attachment for your tractor, to dig fence holes, but it's a big expense for a small farm. Look into renting one, or get a manual auger that requires some elbow grease.
Fence-post driver – to set the posts firmly in the ground
Sturdy pair of fence pliers – They come in various sizes and styles. Start with a pair that's comfortable fit for your hand, and work out which type works best from there. It's a pretty basic tool, so almost any kind will do the job.
Shovel – you'll need to shovel dirt back around the set post. I like a rounded shape that comes to a point for this purpose.
Tamping tool – used to break up hard ground with the chisel end, and tamp down soil around the installed post with the flat end.
Post pounder – basically a heavy bar with handles, used to pound the post into the hole.
Come-along or fence tensioner – These two types of tools tension the fence wires to prevent sagging.
Tools
The key to efficiency is to let your tractor do as much of the work as possible, but no farmer gets by without a little hand tooling. Stock up on basic gardening tools, including a hoe, rake, digging fork, spade, gardening shears, heavy gloves, eye protection goggles, a hand cart and a wheelbarrow.
You'll also need a full toolbox with basic tools like hammers, screwdrivers, measuring tape, and vice grips. You'll find plenty of things that need fixing around the farm. If you're really handy, you might even consider a few power tools, like a table saw and a lathe, to cut your own posts, fix stalls, add shelving, or slap together a sawhorse table from scrap wood just because you need one. And you're definitely going to need a gas-powered chainsaw. Doesn't everybody?
Finally, you need a pickup truck with an open bed and a trailer hitch. You'll likely run into a lot of other equipment you cannot live without based on the purpose of your small scale farm; this is just the basic equipment every small grower needs to accomplish your first tasks: clearing land, fencing, preparing your fields, and planting.
Did I miss anything?