Finish mowers are designed to create a beautiful, manicured look for large lawns, golf courses, and sports fields. If you want a lawn fit for a mansion, and are using a tractor, then the tool you need is a finish mower.
Finish mowers, also called grooming mowers or finishing mowers, are able to handle far more workload than standard push or riding mowers. They are a type of rotary mower designed to give a fine, even cut, while utilizing multiple spindles. These types of mowers are perfect for quick and professional quality cuts.
Pull-behind finish mowers are heavy-duty implements that pull behind any tractor for a precise and speedy cut. Finish mowers come in several sizes and attach to any tractor with a standard 3-point hitch that matches the category of the grooming mower. For example, if the grooming mower has a Category 2 hitch, then you won't want that on one your compact that is equipped with a Category 1 three-point hitch. Their rubber tires provide stability and an even, clean cut without gouging the turf. Quality finishing mowers are known for durability and can last for many years with the proper maintenance and upkeep.
How to Choose a Finish Mower
While they all do the same job, different finishing mowers have distinguishing features. Here are the questions you need to answer before picking your model:
How much can your tractor pull?  Check to see what your PTO horsepower rating is on your tractor. Then, check the mower specs to find the appropriate tractor PTO horsepower for each finish-mower model. Subcompact tractors typically have a mid-PTO option that will allow you to run a mid-mount mower deck, while compact tractors with 15 to 20 PTO HP can handle finishing mowers up to 72 inches. And with 35 PTO HP, you can go up to about 90 inches. Larger, multi-wing mowers will require rear hydraulics and are not usually a standard feature on a tractor until you start breaching the 50 horsepower line-up. If you find research to be a little confusing and overwhelming, then give us a call. We will be happy to help you find your way through the plethora of information out there.
How much area do you need to cover? Typical finishing mower cutting decks range from 48 inches to 99 inches in size, and commercial sizes up to 20 feet wide are available. If you're covering a wide area, you may want to choose the biggest cutting deck your tractor can pull to cover more ground in less time.
How do you want clippings distributed? Finish mowers feature two types of discharge: rear discharge and side discharge. Grass clippings are distributed evenly throughout the area evenly with rear discharge. With side discharge, the clippings are moved to the side of the mower and are left in somewhat of a row.  Rear discharge has become more popular in recent years since the clippings are so evenly spread. This especially works well in vineyards or orchards. The clippings don't end up being thrown against expensive grape vines or fruit trees.
Finish Mowers We Carry
Nelson Tractor makes it our business to provide the best quality equipment to meet your needs. Come on in if you want to talk about a finishing mower to create a lawn people will talk about. Here are some top brands we carry.
Land Pride Finish Mowers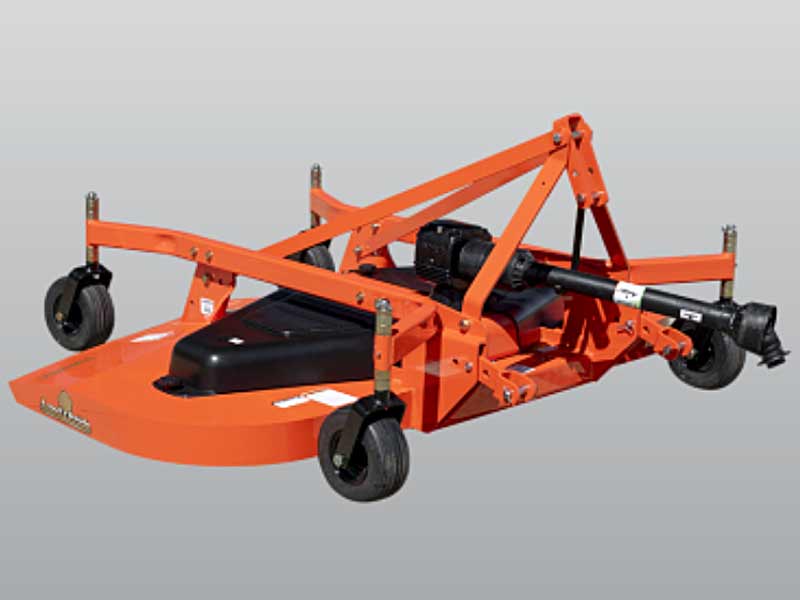 Land Pride finish mowers, also called grooming mowers, are manufactured in Kansas and sold at more than 1600 dealers across the U.S. Their unwavering commitment to service and quality is well known throughout the industry.
Land Pride's grooming mowers range from 15-70 HP and 48"-90" in cut width variation. Depending on the size, they feature 3-6 blades for a precise cut. These size mowers are ideal for homeowners who have large acreage and commercial use for mowing contractors. They are fit for compact tractors and are built to cut close to obstacles. The rear discharge spreads clippings evenly. These mowers are perfect for a smooth, professional cut in fescue and other turf-type grasses.
Land Pride is now owned by Kubota. This means that you now have excellent financing opportunities for their implements. When purchasing a new tractor and Land Pride attachments at the same time, the same finance rate that is offered on the powered unit is extended to the attachments as well.
Bush Hog Finish Mowers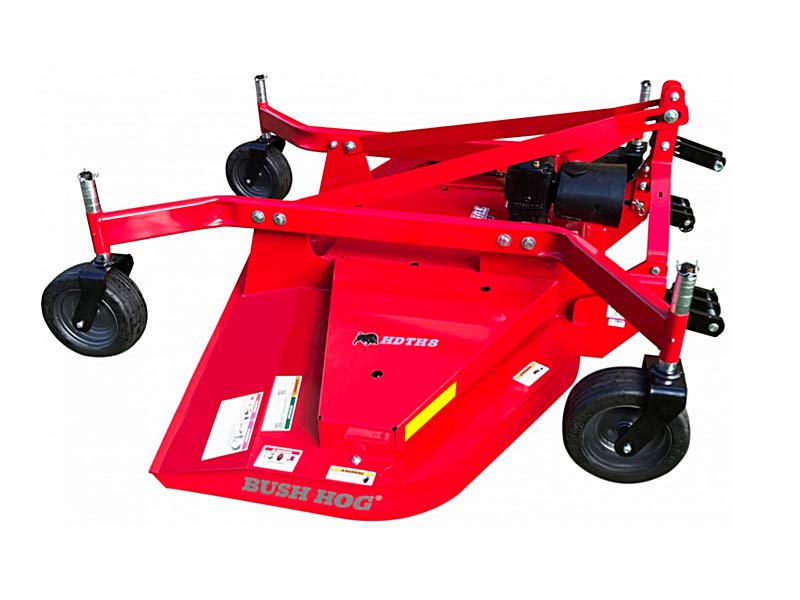 Bush Hog is famous for the first rotary cutter on the market to handle rough terrain, but did you know they also make a finishing mower? Bush Hog finish mowers are built for performance and are ideal for contractors, property owners, lawn care professionals, and more. They provide extra protection against interference and hazards because they feature floating A-frames, hitch arms, and clevis hitches which follow ground figuration.
Offset wheels avert soil compaction and tracking, and overlapping blades create a manicured finish. Width sizes range from 60-99 inches and have 3-5 blades. These mowers are built to last with very low maintenance and high productivity.
No matter what brand you choose, you can't go wrong with one of these quality mowers. Each one will deliver the smooth, perfect cut you want for a remarkable lawn that will have everyone talking.